Business Summary
Under the concept of "We make the Net as simple as breathing," OPTiM sets its mission to change the situation that certain IT literacy is still required to use the Internet as indispensable infrastructure, and to make the Net itself as the air that you do not even notice using it. Since the day of our establishment, we engage in developing products that everyone can enjoy creativity and convenience the Internet brings.
OPTiM focuses on a single segment for license sales and maintenance support service (Optimal Business), and we provide a variety of services such as IoT Platform Service, Remote Management Service, Support Service, and other unique services.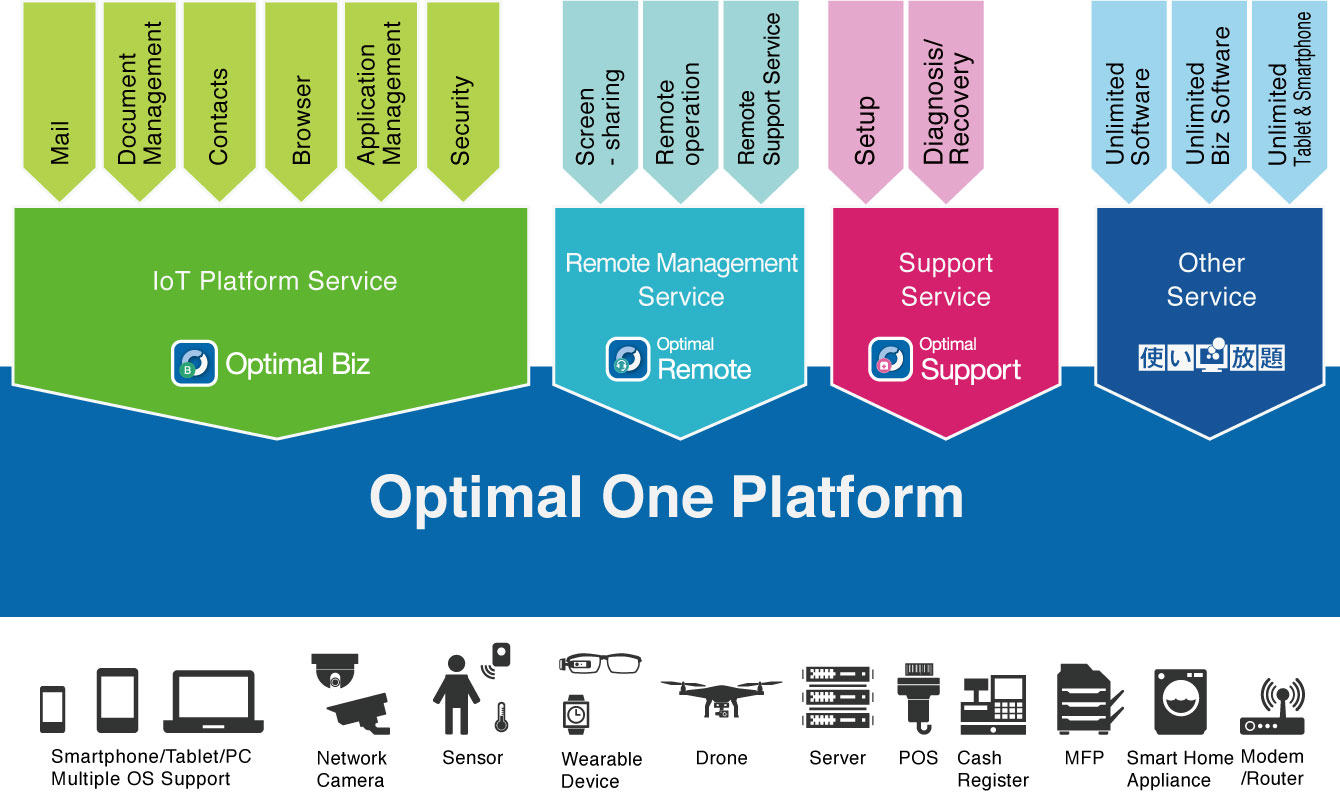 IoT Platform Service
Optimal Biz and Optimal Biz for Mobile provides comprehensive solutions to manage variety of devices on the network, such as smartphones, tablets, and PCs. Our comprehensive cloud device management solution not only helps you optimize and increase the work efficiency in your organization, but also makes it easier to manage assets and apply security policy on devices of various OSs.
We are especially proud that Optimal Biz for Mobile captured the most market share in the SaaS model MDM market for two straight years(*), for its rich functions for antivirus and web filtering, number of supported devices, quick response, and the coverage of various OSs.
In addition to our services for corporate customers, our business has expanded into the educational market. As its market needs grow for more efficient operational management, risk of losing devices, and changing usage policy in/out of school, our product was formally launched into every public high school in Saga prefecture for the new students.
※Source: "ITR Market View: Enterprise Mobile Management/Smart Application Development 2013," by ITR Corporation.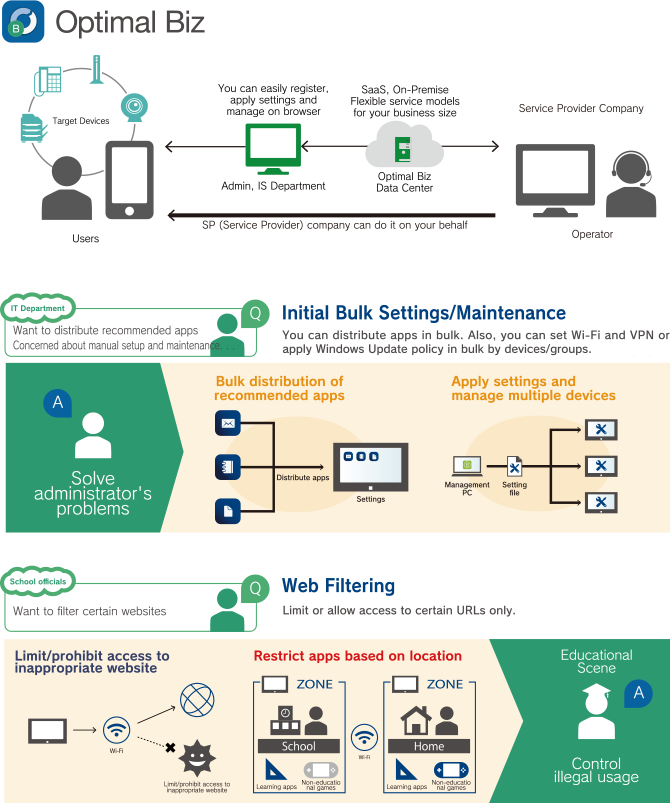 Remote Management Service
Optimal Remote is a user support tool for telecommunication carriers to enable screensharing and remote operation on network devices.
You can utilize Optimal Remote in various scenes; for example, you can utilize it to operate user's device remotely from the helpdesk at a telecom company, or you can remotely provide maintenance on servers. We provide Optimal Remote mainly to telecommunications companies and companies that support users. Basically, we receive license fee based on the number of sessions (the number of operators to support end users at the same time).
Optimal Remote Mobile enables remote operation not only on PC but also on mobile devices, and Optimal Remote Ubiquitous shows full coverage of network information. You can choose either of the products, that are customizable, on your needs.
Support Service
Optimal Diagnosis & Repair automatically finds and repairs troubles on smartphones, tablets, PCs, and routers on the network, which brings true values to both user and customer support center. Also, Optimal Code to significantly reduce time spent on figuring out the situation, and Optimal Setup to automatically setup routers are available for telecommunication carriers.
In addition to the license fee, we receive customization fee such for OEM and maintenance fee for server maintenance and version upgrade.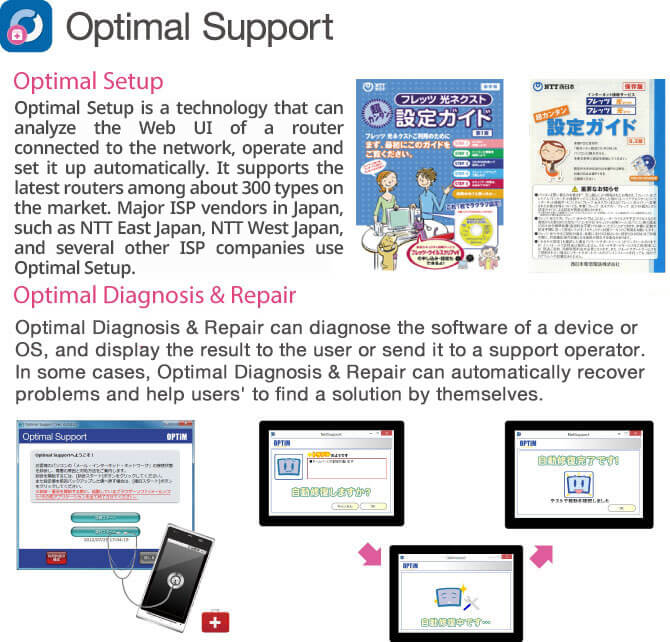 Other Services
For consumer customers, we provide "Unlimited Software powered by OPTiM," which you can use as much as you want from variety of software and e-books at a reasonable fixed price. For corporate customers, "Unlimited Business Software powered by OPTiM" provides you antivirus software and office-compatible software at a reasonable fixed price.
As a security management service for both consumer and corporate customers, we provide Optimal Guard to prevent spoofing and information leakage by detecting, stopping and deleting malicious executable files.