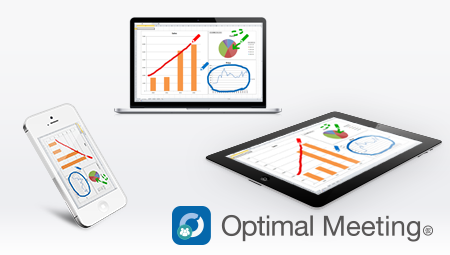 Optimal Meeting (tentative), a screen-sharing service that's easier to use than a current meeting room monitor or projector, requires no registration or installation, and enables materials sharing and collaboration easier than a web conference system. Meeting participants can start screen-sharing and collaborating simply by entering a pre-issued number into their smartphone or PC.
When sharing materials on a TV monitor via a PC screen, precious time is often lost because of various issues, i.e. connector type, compatibility, monitor control, etc. But with Optimal Meeting (tentative), you can enjoy seamless materials sharing and collaboration whenever and wherever you like!
※Please note that the content above is in development and subject to change without notice.