2015.06.22
Release

Click here to print out
Press Release
6/22/2015
OPTiM Corporation

Optimal Biz as part of the "Kyoto ICT Educational Model Construction
Empirical Research Project"
OPTiM is supplying their core technology to support using big data in education
Tokyo (June 22, 2015) – OPTiM (TSE Mothers: 3694), a leading provider of business-related applications for smart devices, proudly announces the supplying of Optimal Biz (Japan's #1※1 MDM※2 for three straight years) to the "Kyoto ICT Educational Model Empirical Research Project," a project involving the cooperation of the Academic Center for Computing and Media Studies of Kyoto University, the Kyoto City Board of Education, Microsoft Japan, NEC, and more.
The push for Information and Communication Technology (ICT) in education with use of devices such as interactive whiteboards, tablets, and PCs, has been a major focus of Japan's Ministry of Internal Affairs and Communications and the Ministry of Education, Culture, Sports, Science and Technology. With these efforts, educational model construction has become exceedingly important, learning routines have been analyzed using big data, and custom, personalized education as a technical solution has been gaining attention.
As pioneers in this field, Kyoto University's Academic Center for Computing and Media Studies and Kyoto City Board of Education have started an experimental study to create an ICT educational model with taking learning home called "Kyoto ICT Educational Model Empirical Research Project." This undertaking involves cooperation between industry, government, and academia. It will provide a tablet PC for each student, and will use them to study how students learn differently at school and at home. For this study, each students' educational habits and tablet usage will be recorded, the data will be saved on a server, and that educational big data will be used for this study.
OPTiM's Optimal Biz is used on the educational-use tablets issued to the students of various institutions, including all Saga Prefectural high schools and Ritsumeikan Primary School. For this experiment, Optimal Biz will be on each device for student use. Optimal Biz's mobile application management (MAM※3) technology will be utilized to extract educational big data from general tablet use and studying by the students on the tablet, and this educational data will be analyzed. From this, analysis of comprehension and trends of tablet use for educational purposes is also possible.
The following is an outline of this study.
■Research Overview
Research theme: Creating an ICT education model for "take-home" studying and education
~Making use of a tablet for each student: "Take-home studying" and "Studying analysis"~
Research Objective: Each student will have a tablet to use, and be able to take it home to study. The differences in day-to-day educational usage at school and at home will be analyzed, and a "take home study" ICT educational model will be developed.
Period: April 2015 ~ March 31, 2016 (planned)
Research participant school: Kyoto Municipal Saikyo High School Affiliated Junior High School (119 students in 3 classes)
Researchers:
Dr. Michihiko Minoh, Ph.D., Professor, Academic Center for Computing and Media Studies, Kyoto University
Dr. Masaaki Iiyama, Ph.D., Associate Professor, Academic Center for Computing and Media Studies, Kyoto University
Dr. Yoshitaka Morimura, Ph.D., Assistant Teacher, Academic Center for Computing and Media Studies of Kyoto University
Dr. Masayuki Murakami, Ph.D., Professor, Kyoto University of Foreign Studies Research Center for Multimedia Education
ICT Provisions
140 tablet PCs [VersaPro J VT] (Windows 8.1 Pro equipped)
3 interactive whiteboards [BrainBoard 65 inch model](Windows 8.1 Pro equipped)
Other wireless LAN setups, charging cabinets, servers, digital test creation system, lesson support systems, engineering support.
■Division of Responsibilities
Kyoto University:
Develop analysis technique for studying log data, conducting the study of the analysis from the data of variance in students' learning
Kyoto City Board of Education:
Provide necessary environments and information for the study, investigate the adoption of practical iCT usage in the city's schools
Microsoft Japan:
Providing the unified information-sharing cloud service for educational purposes, Office 365 Education and the cloud system Microsoft Azure
NEC:
In cooperation with NEC Fielding, providing the maintenance of the ICT relating to the analysis of the study data. In addition, providing the tablet PCs, interactive whiteboards, and construction of the entire ICT system. Finally, providing maintenance of the ICT machinery with support and help desk services in addition to dispatching on-site practical and technical support staff as necessary.
OPTiM:
Providing the MDM service for tablet PCs, Optimal Biz, as well as saving data such as tablet usage and content on the servers of Optimal Biz. The saved data will be included in the educational big data to be analyzed in this study.
■Usage of Optimal Biz in this study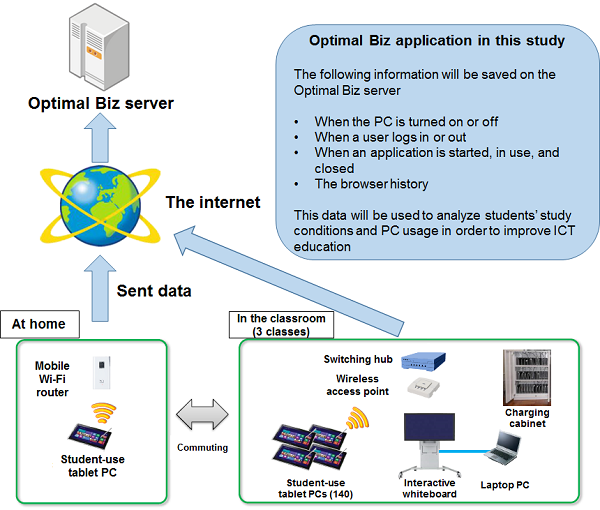 For more information about this study and Optimal Biz, please refer to the websites below.
About the Kyoto University, "Kyoto ICT Educational Model Empirical Research Project ":
http://bit.ly/1MhqR0R(Japanese only)
About OPTiM's Optimal Biz:
https://www.optim.com/products/biz
From now on, OPTiM will endeavor to create and offer innovative products and services in the educational ICT field throughout Japan, and to further develop bright and enjoyable ICT education. Furthermore, the big data usage technology of this initiative will be developed and expanded for other fields.
| | |
| --- | --- |
| ※1 | Source : "ITR Market View: Enterprise Mobile Management / Smart Application Development 2014," published in October 2014 by ITR Corporation. Sales share of SaaS model Enterprise Mobile Management market for 2011, 2012, and 2013 |
| ※2 | MDM stands for "Mobile Device Management", an enterprise solution that collectively manages all employee smart devices and offers security when a device is lost or stolen. MDM provides features such as remote lock and prevention of malicious application launch. |
| ※3 | MAM stands for "Mobile Application Management", an enterprise solution that collectively manages business applications on all employee smart devices. |
About OPTiM
Based in Tokyo, Japan, OPTiM provides internet-based services that improve its clients' interactions with technology in all aspects of daily life, "We make the net as simple as breathing."
Our services include Optimal Biz, a cloud device management service; Optimal Remote, a remote management service; Optimal Support, a setup support service; and the Unlimited content and software suite series.

【Copyright / Trademark】
※The corporate names and product names mentioned above are registered trademarks or trademarks.
※Microsoft, Windows, Microsoft Office and Microsoft Azure are Microsoft Corporation's registered trademark in the United States and other countries.
※The information presented in this press release is subject to change without notice.
For inquiries, please contact:
OPTiM Corporation Marketing/Promotion Team
TEL: 81-3-6435-8570 FAX: 81-3-6435-8560
E- Mail : press@optim.co.jp
Optimal Biz product page:
https://www.optim.com/products/biz