2015.06.26
Release

Click here to print out
Press Release
6/26/2015
OPTiM Corporation
Alps System Integration Co., Ltd.

OPTiM and Alps System Integration
Form a Business Alliance for Mobile Security!
Utilizing ALSI's filtering database for the new web filtering function of OPTiM's
parental control service, mamoly.
Tokyo (June 26, 2015) – OPTiM (TSE Mothers: 3694), a leading provider of business-related applications for smart devices, and Alps System Integration (ALSI), a developer of integrated security solutions, proudly announce their business partnership in the mobile security field, with OPTiM providing products with ALSI's filtering database. The alliance's first offering is a new web filtering function for OPTiM'S parental control service, "mamoly."
In recent years, as the use of smart devices has become widespread, everyone has become able to use one easily. And in families, both parents and their children have been increasingly using these devices. Along with that, various problems could arise, including the children reading websites that have a harmful effect, getting fixated on apps or games, and using the device too much. In order to support both children that use smart devices and their guardians, OPTiM offers the parental control service mamoly. This service allows the guardian to manage a child's smart device, while protecting the child from the problems that come with the smart devices.
With this partnership, ALSI's web filtering database is utilized in a new function of mamoly that lets the user restrict access to certain categories of web sites. With assigning certain categories of websites to be restricted with this function, browsing of harmful or dangerous websites that you aren't aware of can be blocked, protecting children from these bad influences and dangers on the web.
■Web Database Reference Image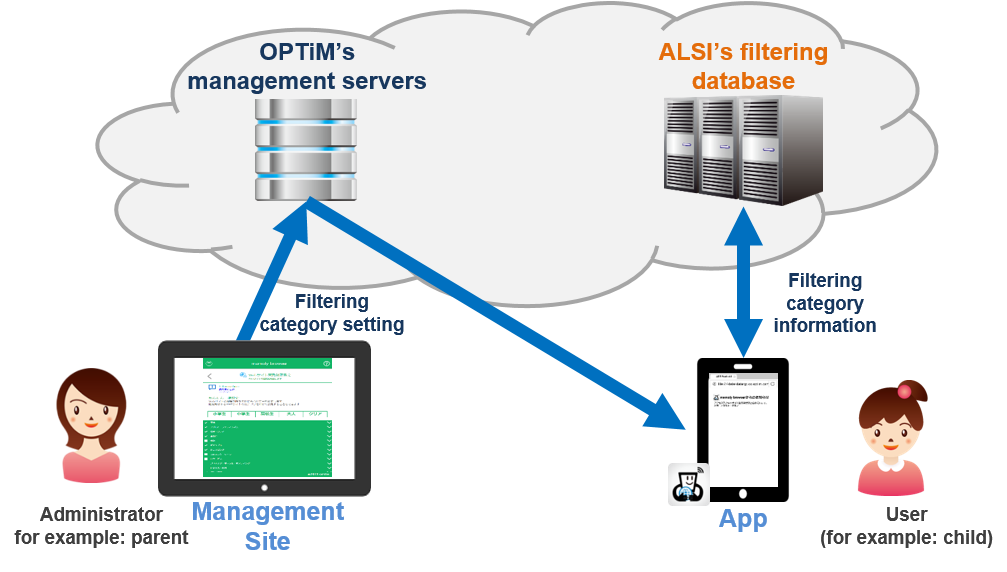 ALSI and OPTiM will continue to use their technologies together to provide safe smart device usage to our valued customers.
■About ALSI's Filtering Database
With the No.1※1 share in the domestic filtering market, ALSI's web filtering software, including InterSafe WebFilter, contribute to the filtering database. Since this software is used by the three major mobile communication carriers※2, it is a high-quality filter free from both overregulation and regulation oversights.
■About Parental Control service "mamoly"
OPTiM, the developer of Optimal Biz, Japan's No.1
※3
mobile device management (MDM
※4
) service for enterprise use, also developed mamoly, a children's smart device monitoring service. Guardians can use mamoly and its useful functions to monitor their children.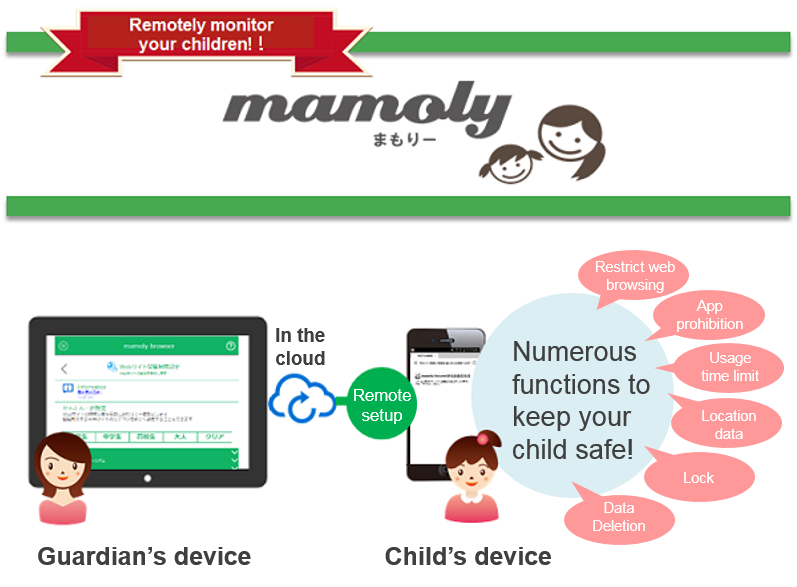 ◆Functions offered by "mamoly"
Web filtering
Sites with obscene or offensive content or potentially harmful social networking can be blocked.
App restriction
Control what kind of apps can be downloaded
Usage time limit
Set how long the device can be used
Location tracking
See the location of the device displayed on a map
Lock
Remotely lock or unlock the device
Data deletion
Remove data from the device
For more information on "mamoly," please visit:
https://www.optim.com/biz/mamoly
| | |
| --- | --- |
| ※1 | Based on sales of filtering tools in fiscal year 2013. Source: Prepared by ALSI on the basis of Fuji Chimera Research Institute, Inc.'s "2014 Network Security Business Comprehensive Survey". |
| ※2 | The newest version is distributed to docomo, KDDI, and Softbank daily for the filtering systems each create and manage. |
| ※3 | Source : "ITR Market View: Enterprise Mobile Management / Smart Application Development 2014," published in October 2014 by ITR Corporation. Sales share of SaaS model Enterprise Mobile Management market for 2011, 2012, and 2013 |
| ※4 | MDM stands for "Mobile Device Management" ,an enterprise solution that collectively manages all employee smart devices and offers security when a device is lost or stolen. MDM provides features such as remote lock and prevention of malicious application launch. |
【Copyright/Trademark】
※The corporate names and product names mentioned above are registered trademarks or trademarks.
※The information presented in this press release is subject to change without notice.
For inquiries, please contact:
OPTiM Corporation Marketing/Promotion Team
TEL: 81-3-6435-8570 FAX: 81-3-6435-8560
E-Mail: press@optim.co.jp
mamoly product page: https://www.optim.com/biz/mamoly
Inquiries
OPTiM Corporate Promotion and Marketing Team
press@optim.co.jp
TEL: +81-3-6435-8570
FAX: +81-3-6435-8560