2016.02.10
Release

Click here to print out
Press Release
OPTiM's MDM/PC Management Service, Optimal Biz,
has Japan's #1 share in the MDM market!
Top place for accounts sold and value of units sold for an MDM system in FY 2014
TOKYO, Japan (February 10, 2016) - OPTiM Corporation (TSE: 3694), a market leader in IoT platforms, announced that the MDM/PC management service, "Optimal Biz," was found to have the largest share※1 of account volume and the largest share of value of units sold in the MDM※2 market. This was announced by MIC Research Institute, LTD※3 on November 20, 2015 in their report "Collaboration Contents and Mobile Management Software Market View 2015." As defined in the report, the MDM market includes package licenses, SaaS※4 and ASP※5.
Furthermore, Optimal Biz was found to have the number one sales share in the market※6 according to MIC's "Cloud Service (SaaS/ASP) Market: Current Condition and Forecasts 2015" report, published in June 2015. Along with the previously mentioned statistics, Optimal Biz has claimed the top share in various criteria, according to multiple reports.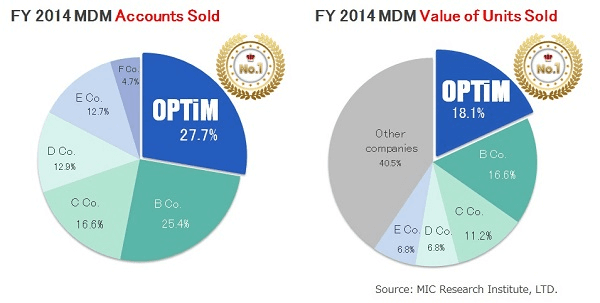 In this report, the research looked at collaboration contents and mobile management software market with the goal of finding the current state and future of the market. For this, MIC conducted interviews and surveys, as well as analysis during October and November 2015. Research was conducted for nine companies in the mobile management package MDM market, including OPTiM. Various criteria was considered, including the provided systems, OS support, and user scope. Among other results it was found that, OPTiM had the number one share in volume of accounts, 27.7%, and the number one share in value of units sold, 18.1%. In response these figures, MIC stated that, "In FY 2014, counter-measures for data leaks of Windows® devices, such as lock and wipe, are highly valued. It has been considered a significant concern by telecommunications carriers for the public, education and financial spheres. So, protections like the ones offered by Optimal Biz have become desired features."
■About MIC Research Institute, LTD.
Established in 1991, MIC Research Institute has focused on marketing researches in the IT and Telecommunications industries. The company provides top-class knowledge resources in these fields in Japan.
■About Optimal Biz
Optimal Biz is a device management and security support service for MDM/PC management service for enterprise-use smart devices, enabling IT administrators to provide security and management to connected devices from a web browser. Optimal Biz offers several powerful advantages, including unique features like Zone Management and device-detection technology, both of which use OPTiM's proprietary technologies. It also supports the industry's highest number of supported models thanks to strong alliances with device manufacturers, a hierarchical management function which helps administrators efficiently manage a large number of devices, and a management screen with an intuitive user interface.
※1
Source: "Collaboration Contents and Mobile Management Package Software Market View 2015" published in November 2015 by MIC Research Institute, LTD. MDM Market (including Package license/SaaS/ASP).
※2
MDM stands for "Mobile Device Management", an enterprise solution that collectively manages all employee smart devices and offers security when a device is lost or stolen. MDM provides features such as remote lock and prevention of malicious application launch.
※3
Headquartered in Minato-Ku, Tokyo, Japan; CEO: Akira Aruga
※4
SaaS Stands for "Software as a Service," a usage model whereby the software is used when needed.
※5
ASP stands for "Application Service Provider," a company that offers applications through a network.
※6
Source for 2011 and 2012 sales figures: "Cloud Service Market: Current Condition and Forcasts 2013", published in October 2013 by MIC Research Institute, Ltd. IT Asset Management & MDM Market.
Source for 2013 and 2014 sales figures: "Cloud Service (SaaS / ASP) Market: Current Condition and Forecasts 2015," published in June 2015 by MIC Research Institute, LTD. IT Asset Management & MDM Market.
There was no 2014 edition of the report published.
About OPTiM
OPTiM is a leader in internet-based services that improve its clients' interactions with technology in all aspects of everyday life. Its services include Optimal Biz, a cloud device management service, Optimal Remote, a remote management service, Optimal Support, a setup support service, and the Unlimited content and software suite series. Its business partners include NTT, KDDI, Canon, and Fuji Xerox. Based in Tokyo, Japan, its corporate motto is, "We make the net as simple as breathing." For more information, please visit the company website.
【Copyright/Trademark】
※The corporate names and product names mentioned above are registered trademarks or trademarks.
※Windows® is Microsoft Corporation's registered trademarks in the United States and other countries.
※The information presented in this press release is subject to change without notice.
Inquiries
OPTiM Corporate Promotion and Marketing Team
press@optim.co.jp TEL: +81-3-6435-8570 FAX: +81-3-6435-8560