2016.06.15
Release

Click here to print out
Press Release
OPTiM's AgriDrone Undergoes the World's First
Successful Trials for Insect Extermination by Drone
TOKYO, Japan (June 15, 2016) - OPTiM Corporation (TSE: 3694), in cooperation with the Faculty of Agriculture, Saga University, and Saga Prefectural Government Department of Agriculture, Forestry and Fisheries, has announced the world's first※1 successful tests of pest extermination by drone. The tests were conducted with AgriDrone, OPTiM's drone optimized for agriculture. With AgriDrone, OPTiM aims to improve agricultural pest control by developing features that can detect insects and autonomously exterminate them with pinpoint pesticide application or a nighttime chemical-free roving bug zapper.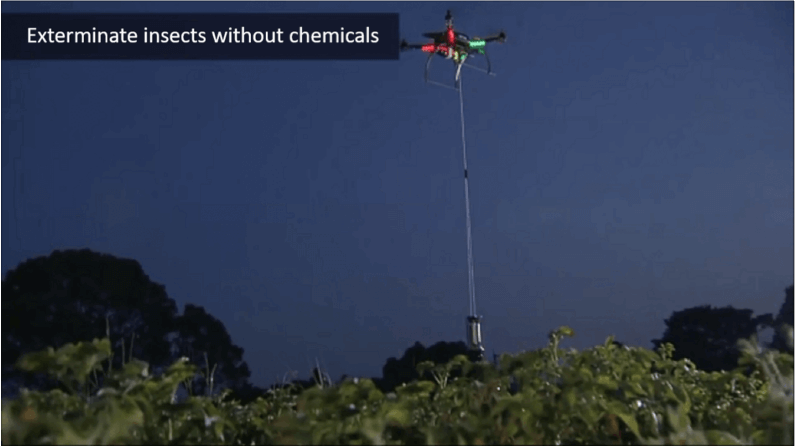 ■About the AgriDrone Tests
The recent trials were based on the hypothesis that nocturnal insects hide under leaves during the day to evade birds, but then come out at night when it is safe. Therefore, it would be more effective to attempt extermination at night, when the insects are exposed. To test this, the AgriDrone roving bug zapper feature was developed. The path of AgriDrone was preset to fly over fields at night while carrying a bug zapper right above the crops. This test was held in the soy bean and sweet potato fields of the Saga University Center for Education and Research in Agricultural Innovation.
The trials were ultimately successful, and it was found that the AgriDrone was able to kill over 50 varieties of nocturnal agricultural pests. Future tests will focus on exterminating a variety of plant hopper that is particularly harmful to rice plants.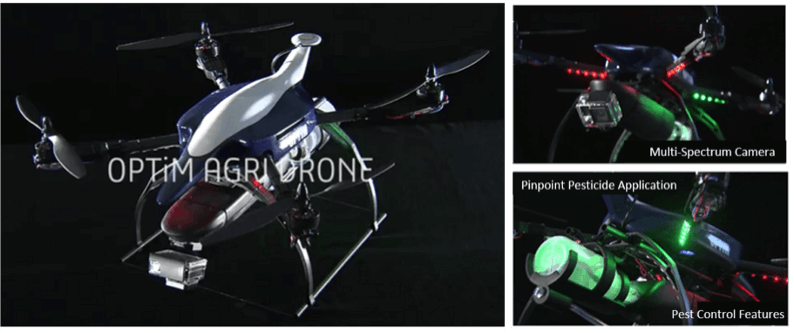 ■AgriDrone Features
Nighttime pesticide-free pest control with bug zapper attachment
Autonomous flight along a set path
Multi-spectrum imaging, including infrared camera and thermal camera
Pinpoint pesticide application device
For more information about AgriDrone, please watch the introductory video below:
https://youtu.be/9wUbiGVJ0nM
■About the Three-Party Agreement for IT Agriculture
The three-party agreement between Saga University, Saga prefectural government and OPTiM started in August 2015 to create a streamlined environment for innovation, combining the technology and resources of each institution. Under the slogan of "fun, cool and profitable agriculture," the three parties are working to have Saga Prefecture become the world's #1 in agricultural IT.
For more information about this three-party agreement, please visit the site below:
https://www.optim.com/news-detail/10507
| | |
| --- | --- |
| ※1 | As of June 15, 2016, based on the research by OPTiM. |
OPTiM is a leader in internet-based services that improve its clients' interactions with technology in all aspects of everyday life. Its solutions provide comprehensive IoT management and multi-functional remote communication. Its business partners include NTT, KDDI, Canon and Fuji Xerox. Based in Tokyo, Japan, its corporate motto is, "We make the net as simple as breathing."
【Copyright/Trademark】
※The corporate names and product names mentioned above are registered trademarks or trademarks.
※The information presented in this press release is subject to change without notice.
Inquiries
OPTiM Corporate Promotion and Marketing Team
press@optim.co.jp TEL: +81-3-6435-8570 FAX: +81-3-6435-8560