FLENS – Educational Platform over the Internet –
Interviewee: Mr. Masahiro Koizumi FLENS Inc., Director
What is FLENS?
FLENS is focused on "student motivation." Most existing e-learning services are designed under the assumption that students are highly motivated to learn about and interact with Information and Communication Technology (ICT). However, the reality is quite different. Many students, especially those in elementary or junior high, lack motivation and clear-cut goals. FLENS was developed as a means to efficiently motivate all students by offering a brand-new take on ICT and its advantages.
| | | |
| --- | --- | --- |
| | | |
| Mr. Masahiro Koizumi | Appearance of the Classroom | Studying by FLENS |
FLENS: Implementation Challenges
FLENS' biggest challenge was how to prevent students from using their tablets for non-educational activities. We needed to control irrelevant application use and prohibit access to inappropriate websites, while at the same time limiting device settings changes so that students could immerse themselves in a safe, learning-friendly environment.
Other challenges included how to best distribute the dedicated FLENS application, and how to effectively manage 2,000 devices over a usage area of 83 classrooms.

Why We Select Optimal Biz
There are several reasons: 1) Optimal Biz is able to solve all of our challenges, 2) Optimal Biz is available on SaaS, which allows us to minimize our operational costs, 3) working with a local company equates to swift response and support, especially when adding new devices and services, and 4) it's easy to use!
What Changed after Introducing Optimal Biz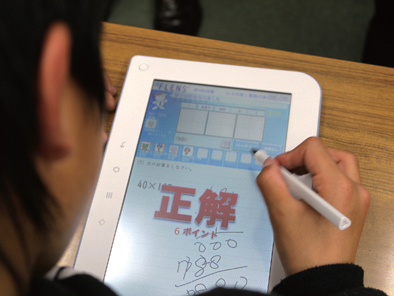 Optimal Biz has made it easy for FLENS and its customers to manage and update FLENS' application in every classroom, regardless of a person's IT knowledge. In fact, the learning curve was very small; once everyone got the hang of it, executing updates was a breeze. Another benefit is that Optimal Biz obtains and displays detailed information for each device, meaning we can easily locate "problem" devices and administer a quick solution.
Future Expectations for Optimal Biz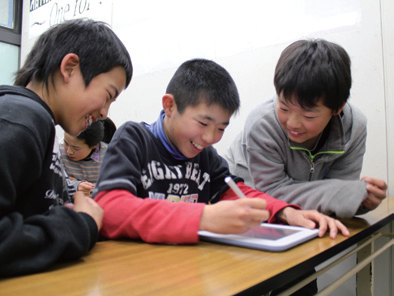 FLENS' goal is to expand its customer base, working with public schools and private institutions. Whenever a new customer is acquired, we plan on introducing them to Optimal Remote for remote maintenance support and operation. Also, we hope that OPTiM continues to develop services (i.e. content distribution services) that address Japan's educational and academic needs.
About Optimal Biz
Optimal Biz is a service that provides secure remote management of smart devices via a host of effective tools, such as:
– Blocking access to inappropriate websites
– Prohibiting irrelevant apps from being installed on iPhone, iPad, Windows and Android devices
– Allowing administrators to remotely "lock" and "wipe" devices
– Preventing leakage of sensitive/confidential information
To learn more about Optimal Biz for Mobile, click here!
About FLENS Inc.
FLENS Inc. (Headquartered in Tokyo and led by Takahiro Oobae, President & CEO):

Established in August 2012, FLENS is a spin-off enterprise whose mobile-savvy management team is dedicated to expanding the company's business both in Japan and beyond. Through the power of tablet devices and the Internet, FLENS creates revolutionary learning opportunities that increase student motivation and make studying fun and effective.

Head Office: 4-4-2, Ooi, Shinagawa-Ku, 140-0014 Tokyo
Founding date: August 2012
Website:http://flens.ne.jp/en/