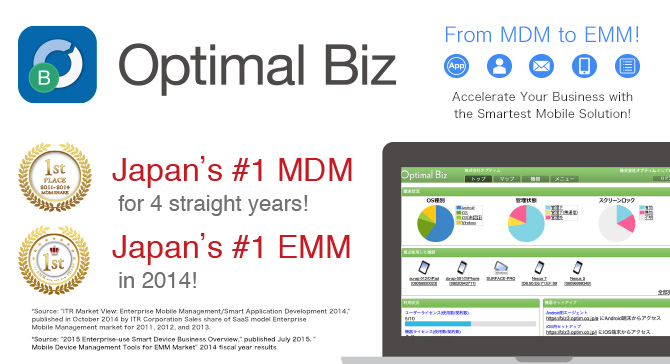 What is Optimal Biz?
Optimal Biz is an MDM (Mobile Device Management) tool that enables efficient, company-wide device management (i.e. PC, Android, iPhone and iPad) and security maintenance from a web browser.

MDM by OPTiM, the mobile device management experts

Optimal Biz: the industry-leading MDM developed by OPTiM, a company with a rich history of developing and operating mobile device management platforms.

OPTiM's MDM supports more devices in Japan than any other company, with a response time unequaled by any competitor.

Strong business alliances with top device manufacturers have enabled OPTiM to research each manufacturer's latest device before release. The large number of devices supported by OPTiM and the company's industry-leading response time (which is an essential criteria when choosing an MDM) make OPTiM the undisputed MDM leader.

Dedicated support, right from the start – made possible because all of OPTiM's solutions are developed in-house.

Optimal Biz was developed in-house with the goal of providing mobile device users with fast, flexible support. Optimal Biz offers product solutions for any usage situation, from introduction to operation.

Thanks to our many years of experience in MDM development, we can offer a variety of solutions for any business scenario.

Every customer that uses Optimal Biz is provided with several customized forms specifically tailored to their business, including regular license sales, commission sales and OEM. OPTiM provides a basic service in a SaaS form which doesn't require server installation, and an on-premises service as well.

To best accommodate ever-changing industry trends and user interests, Optimal Biz is positioned as a cross-platform solution with maximum flexibility.

Optimal Biz supports both Android and iOS with the MDM market's fastest response time. Moreover, to keep pace with mobile's evolving landscape, OPTiM strives to support every major OS.

From start-ups to large companies, Optimal Biz delivers the features that every MDM user desires.

In addition to leading the MDM industry in number of features offered, Optimal Biz's user-friendly interface, which is updated regularly, allows for efficient management of numerous devices.
Secure Apps
Business Apps
Unlike a VPN connection, which connects each device to the server, Per-App VPN means that each application on an MDM-managed device is secured with encrypted communication and can connect to a business database on the company's in-house server. Moreover, Secure Apps are containerized in the business data area, which prevents data communication between business apps and other apps. These applications enable employees to securely access and use business data whenever and wherever they want -- and the administrator's workload is greatly reduced.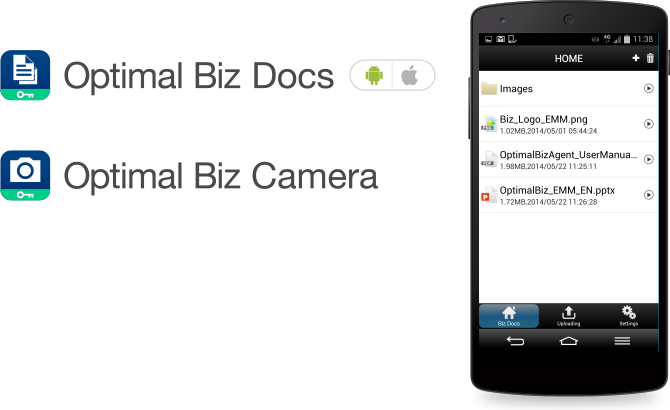 Allows easy content-sharing of internal documents stored on a company's in-house server, and it includes a camera feature to ensure secure photo management.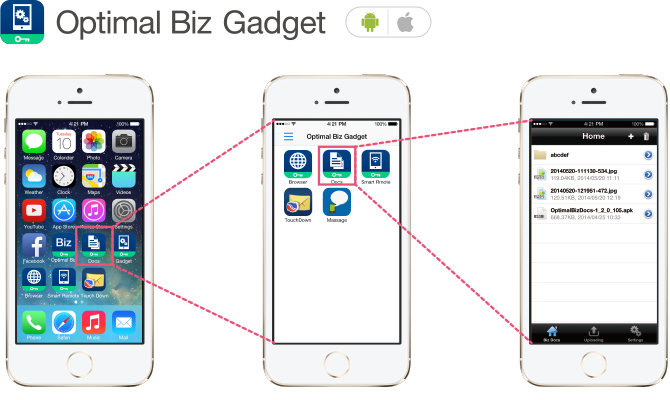 Allows quick, secure access to containerized business apps.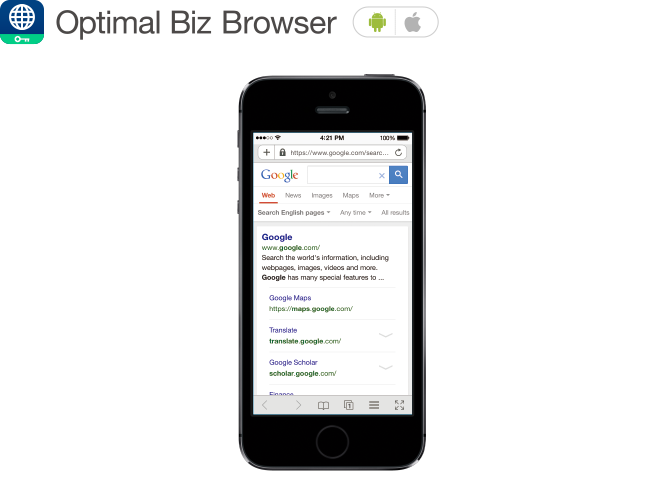 A specially-designed browser that provides a secure connection to internal systems.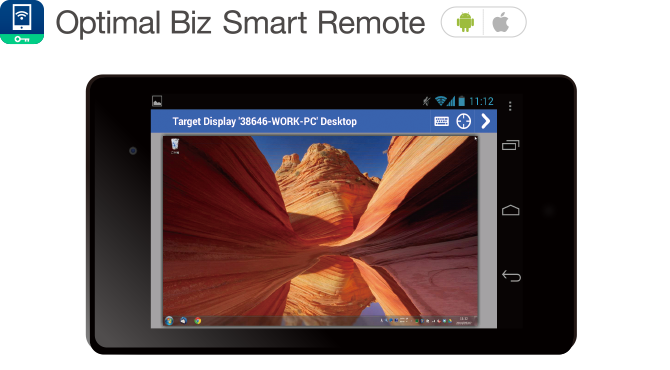 Allows offsite users to remotely control their office PC from their mobile devices.