2015.01.22
News
Optimal Biz : Notification of iOS VPP Specification Improvement
Thank you very much for your continued patronage of OPTiM's products and services.
This is a notification to share the news that Apple Inc. has provided advance information regarding a specification improvement for VPP(Managed Distribution)※1 scheduled on February 4, 2015(JST).
When distributing apps purchased via VPP to iOS devices under the current specification, there could be unsuccessful distributions if the setting of "App Automatic Downloads"※2 is enabled.
By the upcoming specification improvement on Apple's VPP service, the automatic installation will not be performed remotely without utilizing an App Distribution command※3.  This will enable an app distribution with the managed app even when "App Automatic Downloads" is enabled.
◆Phenomenon Example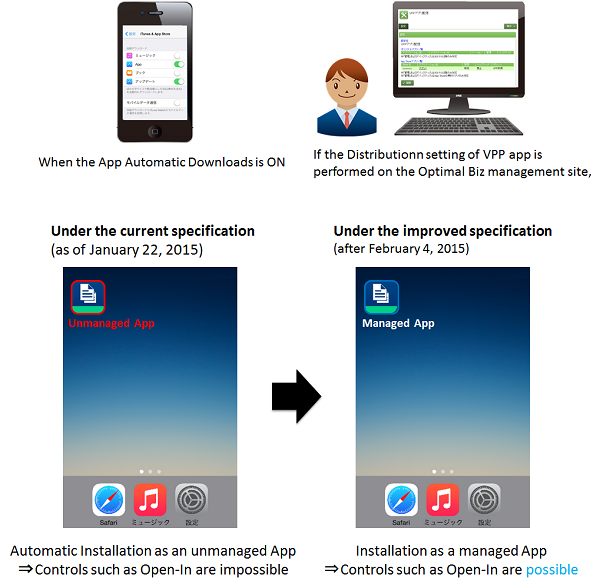 Caution:
Although the Automatic Downloads will not be performed on the device, if a manual download is done on another device using the same Apple ID, the installation will be performed as an unmanaged app.
We would appreciate your kind effort to make your end-users aware of this change.
There will be no service suspension or version upgrade of Optimal Biz caused by this specification improvement.
Thank you for your understanding and cooperation.
※1
VPP stands for Volume Purchase Program.  Apple Inc. provides this volume purchase program for iOS apps.
Please refer to the following Web site for details.
・http://www.apple.com/business/vpp/
※2
You can confirm the Automatic Downloads setting of apps by "Settings→ iTunes & App Store→ Automatic Downloads→ Apps".
※3
Optimal Biz supports operation for distribution as a managed app by utilizing the App Distribution Feature.