2015.03.30
Release

Click here to print out
Press Release
3/30/2015
OPTiM Corporation
(TSE's Mothers:3694)
The Optimal One Platform is now Open
and Free to the Public!
The Communication SDK of our Integrated Cloud Device Platform supporting
all OPTiM's services is now globally accessible.
20 app vendors are already working to make Remote Experience Sharing a reality.
Tokyo (March 30, 2015) – OPTiM (TSE Mothers: 3694), a leading provider of business-related applications for smart devices, proudly announces that Optimal One Platform, the platform supporting all OPTiM's services, is now globally open to the public. As first step, OPTIM makes the Communication SDK, the core library of the Optimal One Platform that allows everyone to remotely share knowledge, know-how and information with individuals/groups in real-time, open and free. This enables our App Alliance Partners to utilize the features including OPTiM's patents and deliver highly-secured and high-quality feature enhancements.
■About the Optimal One Platform
Optimal One Platform is the platform at the basis of all OPTiM's services, including Optimal Biz (Japan's No.1※1MDM※2 for three straight years), Optimal Remote (a remote support service used by more than 15 million people worldwide※3), and Unlimited Tablet/Unlimited Smartphone (world's first※4 flat-rate comprehensive digital magazine service).
With the rise of smartphones/tablets, new types of usage patterns have surfaced.  To tackle all these new opportunities, OPTiM developed Remote Experience Sharing, a new way for everyone to remotely share experience (knowledge, know-how and information) with individuals/groups in real-time, as if standing right on their side.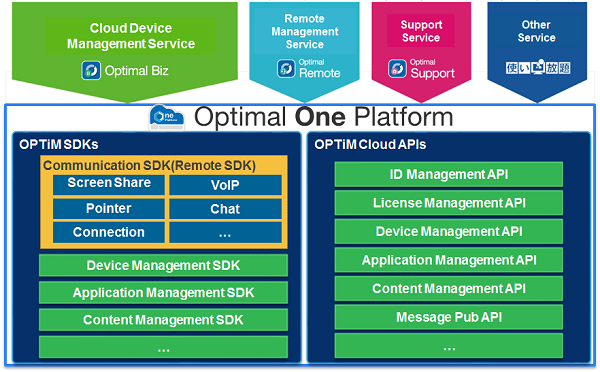 ■About OPTiM SDKs
OPTiM SDKs is a generic name for device SDKs※5 employed by OPTiM's products and services such as Optimal Biz, Optimal Remote and more.  The device SDKs are available for multiple devices and Operating Systems.  Each SDK utilizes OPTiM's patents – meaning that all App Alliance Partners can implement high-quality and highly-secured features into their own apps.  The open Communication SDK that was just released is also part of OPTiM SDKs, and it is featured mainly in products and services classified as Remote Management Services (e.g. Optimal Remote).
■About OPTiM Cloud APIs
OPTiM Cloud APIs is a generic name for APIs※6 enabling other apps and softwares to use the features of OPTiM's products and services via the Internet.  Each API achieves easy and secure linking with OPTiM's services such as ID Management, License Management, and Device Management.
■About the Communication SDK
The Communication SDK, which was formerly called "In-App Remote SDK"※7, is an integrated SDK that provides necessary features for communication, and enables screen-sharing, VoIP, chat, connection management, ID management, and more.  The SDK makes the development of apps for in-house use or service provision incorporating real-time screen-sharing possible.  The SDK works smoothly with iOS restrictions and Android™ devices with device type limitations, ensuring a silky experience when users share knowledge, know-how and information※8.
■Advantages of the Communication SDK

Easy and free embedding
Embedding the Communication SDK requires a simple copy/paste of the code.
No server requirement
Cloud servers are provided by OPTiM
Security
The same security standards as with OPTiM's enterprise products are enabled
iOS/Android™ support
■Communication SDK provision models
Two types of provisioning models are available.

◆Standard Model
Free provision to support service providers and general app providers.  An environment allowing an operator to connect with an app featuring the Communication SDK.
◆Corporate Model
Provision to system integrators, financial companies, and app developer companies.  Usage includes in-house dedicated apps or closed network spaces.  This model provides the highest level of security and requires individual consultation.
■Communication SDK usage scenarios
The Communication SDK provides integrated features for communication, which can be used in a variety of scenarios.  For example, a corporate app embedding the chat feature can allow smooth communication between users, or a design app which requires complex interactions can benefit from support service with the screen-sharing feature.
◆Usage scenarios
Provision of support service by providers / general purpose app vendors, etc;
Facilitate communication with custom corporate apps through screen-sharing support, VoIP, and chat;
Adding a chat feature to groupware apps;
Adding a voice call feature to store kiosk terminal apps;
Adding live "streaming" by screen-sharing or communication features with VoIP/chat to a smartphone game.
■About Optimal One Platform Alliance Partners
At OPTiM Remote World 2015, paired with the announcement of the opening of the SDK to the public, OPTiM also announced the Optimal One Platform Alliance.  App vendors joining the Optimal One Platform Alliance can easily add OPTiM's technology to their own apps embedding OPTiM's Communication SDK.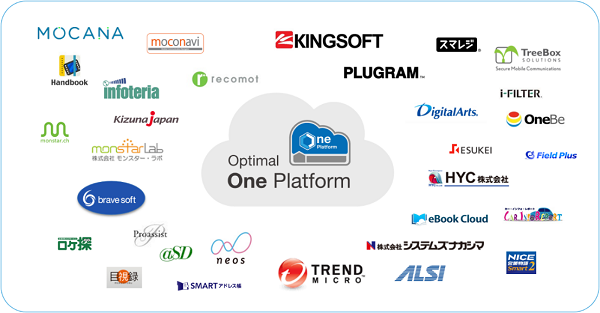 A list of the current App Alliance Partners.
■Comments by App Alliance Partners attending the OPTiM Remote World 2015 (in alphabetical order)
ASD Inc.

App Name:Mokusiroku
A system for business improvement that records, shares, and uses all the information regarding a site.

Comment:Takehiko Uchiyama, Representative Director
Allying with OPTiM, we can now provide remote management service for Mokusiroku, our site management system for smartphones.
Smooth emergency support for troubles can now be implemented securely sharing a screen with a remote user.

BraveSoft, Co., Ltd.

Comment:Toshihiro Kumagai, General Manager
In order to promote development of corporate apps, we plan to implement OPTiM's Communication SDK and differentiate ourselves from the competition.
For consumer apps, we plan to provide remote features as a part of our user support.

ESUKEI Co.,Ltd.

App Name:Field Plus
A client application for business reporting featuring response on a dedicated screen of reporting format, photographs or duty report.

Comment:Kazumi Nagao, Representative Director
We plan to enrich our maintenance support for end users embedding OPTiM's remote management service on our Field Plus package.
This will suit different kind of businesses such as those involving store installation, field patrolling work of store/site, and more.

HYC Co., Ltd.

App name:Car Info Report @OBD for Business Port
Instantaneous acquisition of car inspection certificates through QR codes.

Comment:Hajime Yoshino, Representative Director
Many of our app users are working people, so our requirements for support extends much beyond the initial phase, and that has been an issue up to now.
Embedding the Communication SDK in our app, we're confident we will be able to be much more efficient in assisting users in need, and at the same time gather precious feedback information.

Monster Lab, Inc.

App Name:Monster Channel
An Internet music broadcasting app which can play BGMs on over 1300 channels, including stores, offices, hospitals, homes, etc.

Comment:Sumito Suzuki, Director
Many users of our app are IT beginners, and it hasn't been always easy to provide support for installation and troubleshooting.  Thanks to the Communication SDK, we can now assist users more efficiently, make setup easy, and respond to their questions through the screen-sharing function.  With this solution, we fully expect to be able to reduce support costs.

Neos Corporation

App Name:SMART Address Book
A cloud-based contacts management app for corporate use which can handle various contacts information from multiple devices such as smartphones and PCs.

Comment:Hiroyuki Kikuchi, Manager, Solution Service Department
We have been providing a cloud-synched contacts management app for corporate users since 2013.
Because the service handles huge address data coming and going from the corporate environment, user support for things such as app synchronization and screen management have been an issue – but that's the past! With OPTiM remote service, we believe all these issues are behind us.

Proassist, Ltd.

App Name:LOKETAN
LOKETAN is an ASP service specialized in location-data searching for business use.  The tool is used by LOKETAN administrators to retrieve current location and status.

Comment:Yasuko Umetani, Executive Director
We think we can control the spike in support costs implementing OPTiM's Communication SDK within LOKETAN.

recomot Inc.

App Name:moconavi
An app enabling secure connection and operation of in-house or cloud groupware and CRM.

Comment:Tsuyoshi Togo, Representative Director
Our product leaves no data on the device, is intuitive and has advantages of superior operability. For this reason, it's currently adopted by a variety of large communication carriers.
Recomot is aggressively going to take advantage of the recently opened Communication SDK. At first, we will enhance our sup-port features by implementing it, and we will definitely use other upcoming SDKs in the future.
The alliance between recomot and OPTiM ensures the provi-sion of top-notch enterprise mobile solution services for all our clients.

Systems Nakashima Co.,Ltd.

App Name:NICE Eigyo Monogatari Smart 2
A scheduling app that can create business reports, planned by users working on the front line.

Comment:Hiromitsu Ishii, Director
We are developing and marketing a sales support management tool called NICE Eigyo Monogatari, which would loosely translate into "NICE Sales Story".  The development started at first for in-house usage, but it's now used in a wide variety of industry fields such as manufacturing and construction.
We have now embedded OPTiM's Communication SDK into our sales support app NICE Smart2, which we are providing for iOS.  We trust this will help us surfacing new user needs other than plain support.
The following list includes the other App Alliance Partners of Optimal One Platform.
■Other App Alliance Partners (in alphabetical order)
| | |
| --- | --- |
| Alps System Integration Co., Ltd. | Digital Arts Inc. |
| EBOOK CLOUD Inc. | Infoteria Corporation |
| KINGSOFT JAPAN, INC. | KizunaJapan Corporation |
| Mocana Corporation | OneBe, Inc. |
| PLUGRAM,Inc. | TreeBox Solutions Pte Ltd |
| Trend Micro Incorporated | |
Please refer to the following website for more information on the Optimal One Platform Alliance Partners.

OPTiM Remote World 2015 mini-site:
https://www.optim.com/events/orw2015
■Further effort
From now on, OPTiM will double its efforts to promote the Optimal One Platform, and will provide the right environment to develop and use mobile apps in a more intuitive, secure and safe way.  OPTiM also renews its commitment to provide global products and services to make the Internet simple and convenient.
※1
Source: "ITR Market View: Enterprise Mobile Management / Smart Application Development 2014," published in October 2014 by ITR Corporation.   Sales share of SaaS model Enterprise Mobile Management market for 2011, 2012, and 2013
※2
MDM stands for "Mobile Device Management", a solution that collectively manages smart devices and offers security when a device is lost or stolen.  MDM provides features such as remote lock and prevention of malicious application launch.
※3
Basis for calculation: contracted quantity of remote support service of NTT East and NTT West (4530,000※9) x domestic average number of household members (2.57 persons / household※10) + other services users.
※4
As of November 19, 2014, based on the research by OPTiM.  As a comprehensive e-book service, providing customers with services "All-you-can-read popular magazines", "Device warranty","Family camera", "Cloud storage" and "Net printing." Please refer to the following website for details.
https://www.optim.com/news-detail/14156
※5
SDK stands for "Software Development Kit".  SDK is a kit that includes necessary technical documents and tools for software development in one package.
※6
API stands for "Application Programming Interface".  An API defines the rules of procedures and data format etc. in order to call out and utilize a function of another computer program.
※7
About In-App Remote SDK, please visit
https://www.optim.com/news-detail/9357
※8
The "Optimal Remote" tool is required in order to perform support service.
※9
Source: Overview of Business Results by Business Segment (April 1, 2012- March 31, 2013) by NIPPON TELEGRAPH AND TELEPHONE CORPORATION – (3) Improving customer service.
※10
Source: Comprehensive Survey of Living Conditions by the Ministry of Health, Labour and Welfare - 1.Structure of household and types of household.
About OPTiM
Based in Tokyo, Japan, OPTiM provides solutions that reduce its clients' support costs, with an overall focus on evolving online experiences to the point that the Internet becomes something you aren't even conscious of, like breathing.  OPTiM's solutions' suite includes setup, diagnostic and marketing tools for NGN and home networks, as well as mobile devices, routers, TVs, gaming platforms, multifunction peripherals, servers, printers and DVD recorders.
【Copyright/Trademark】
※The corporate names and product names mentioned above are registered trademarks or trademarks.
※Android™ is a trademark of Google Inc.
※The iPhone, iPad and App Store name and logo are trademarks or registered trademarks of Apple Inc. in the United States and other countries.
※The iPhone trademark is used in accordance with AIPHONE Co. Limited's license policy.
※IOS is a trademark or registered trademark of Cisco in the United States and other countries, and is used in accordance with Cisco's license policy.
※The information presented in this press release is subject to change without notice.
For inquiries, please contact:
OPTiM Corporation Marketing/Promotion Team
TEL: 81-3-6435-8570 FAX: 81-3-6435-8560
E-Mail: press@optim.co.jp
OPTiM Remote World 2015 Website: https://www.optim.com/events/orw2015
Inquiries
OPTiM Corporate Promotion and Marketing Team
press@optim.co.jp
TEL: +81-3-6435-8570
FAX: +81-3-6435-8560