2015.04.01
Release

Click here to print out
Press Release
4/1/2015
OPTiM Corporation
(TSE's Mothers:3694)
Easier than a Web conference system Announcing Optimal Meeting!
Remote Experience Sharing with PCs, smartphones, and tablets
Tokyo (April 1, 2015) – OPTiM (TSE Mothers: 3694), a leading provider of business-related applications for smart devices, proudly announces that it has unveiled Optimal Meeting (tentative name), a service enabling material sharing and collaborating easier than a Web conference system, using the concept of "Remote Experience Sharing" , an environment that allows everyone to remotely share experience (knowledge, know-how, and information) with individuals/groups in real-time.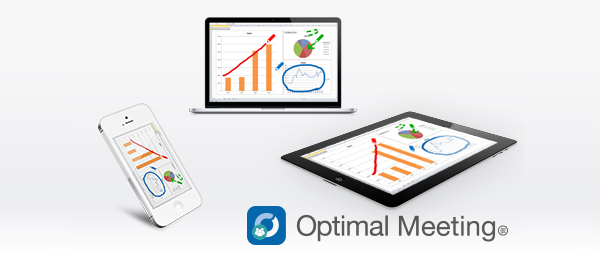 This is the beginning of a service that is even easier to set up than a projector or monitor.  Meeting participants can start screen-sharing and collaborating simply by entering a pre-issued number into their smartphone or PC.  With Optimal Meeting, the complicated setup procedure of web conference systems is simplified; there is no registration or program installation needed for participants.  Furthermore, this service supports multiple operating systems and browsers.  All functions of Optimal Meeting can be used on Windows®, iOS, and Android™.  The service is anticipated to launch in May 2015.  Further details, such as service features and pricing, will be announced closer to the release date.
■Use case examples
Without Optimal Meeting:
Optimal Meeting Strengths
With Optimal Meeting
Optimal Meeting Features
■Starting Optimal Meeting takes just three easy steps
After the meeting organizer announces the meeting number, the participants just input that number into their browser to start the meeting.  Change the display the same way, and then screen sharing can begin.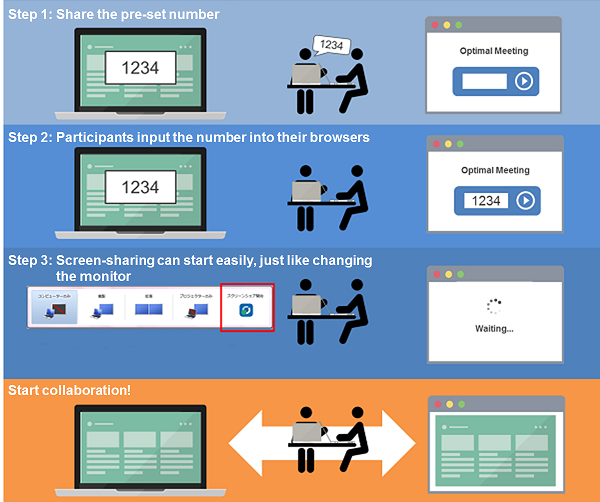 ■Usage scenarios
In face-to-face or remote meetings, or for quick support of smartphone, tablet, and PC, this service can be used in a variety of cases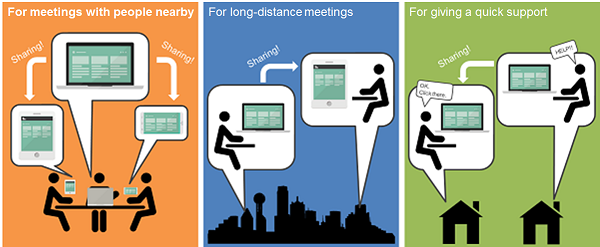 ■Using the MDM※1 service Optimal Biz to be more convinient
This service is not tied to a single OS, and is available for Windows®, iOS or Android™, and can be used on multiple devices, and is supported by Optimal Biz, Japan's No.1※2 MDM service for three straight years, providing secure sharing of important documents and data.
| | |
| --- | --- |
| ※1 | MDM stands for "Mobile Device Management", an enterprise solution that collectively manages all employee smart devices and offers security when a device is lost or stolen.  MDM provides features such as remote lock and prevention of malicious application launch. |
| ※2 | Source : "ITR Market View: Enterprise Mobile Management / Smart Application Development 2014," published in October 2014 by ITR Corporation.  Sales share of SaaS model Enterprise Mobile Management market for 2011, 2012, and 2013 |
About OPTiM
Based in Tokyo, Japan, OPTiM provides solutions that reduce its clients' support costs, with an overall focus on evolving online experiences to the point that the Internet becomes something you aren't even conscious of, like breathing.  OPTiM's solutions' suite includes setup, diagnostic and marketing tools for NGN and home networks, as well as mobile devices, routers, TVs, gaming platforms, multifunction peripherals, servers, printers and DVD recorders.
【Copyright/Trademark】
※The corporate names and product names mentioned above are registered trademarks or trademarks.
※Microsoft® and Windows® are Microsoft Corporation's registered trademarks in the United States and other countries.
※The iPhone, iPad and iPod touch name and logo are trademarks or registered trademarks of Apple Inc.  in the United States and other countries.
※The iPhone trademark is used in accordance with AIPHONE Co. Ltd.'s license policy.
※IOS is a trademark or registered trademark of Cisco in the United States and other countries, and is used in accordance with Cisco's license policy.
※Android™ is a trademark of Google Inc.
※The information presented in this press release is subject to change without notice.
For inquiries, please contact:
OPTiM Corporation Marketing/Promotion Team
TEL: 81-3-6435-8570 FAX: 81-3-6435-8560
E-Mail: press@optim.co.jp
OPTiM Remote World 2015 Website https://www.optim.com/events/orw2015