2014.10.24
Release

Click here to print out
Press Release
10/24/2014
OPTiM Corporation
Secure Shield, the Premier Technology for Preventing MDM
Vulnerabilities on Android Devices,
is registered as a patent in the USA!
Secure Shield is a standard feature of Optimal Biz, Japan's #1 MDM
Tokyo (October 24, 2014) – OPTiM, a leading provider of business-related applications for smartphones and tablet devices, proudly announces the registration of a patent in the USA for Secure Shield, OPTiM's innovative shielding technology which is a standard feature included in "Optimal Biz" -- Japan's No.1※1 MDM※2 solution for three years running.
MDMs used for Android devices have vulnerabilities which could be exploited as loopholes in the MDM's security management, i.e. an MDM "jailbreak".  On December 27, 2013, OPTiM launched Secure Shield, a technology that blocks such loopholes. Since its release, Secure Shield has become very popular in industries like financing, manufacturing and public service, where security is paramount.  Secure Shield's success has culminated with an evaluation of technical novelty and validity and the awarding of a patent in the USA for what is truly a state-of-the-art security technology.
■Patent information
Registration number: United States Patent 8,793,703
Registration date: July 29, 2014

■About Secure Shield
Secure Shield, a proprietary technology developed by OPTiM, effectively blocks and prohibits direct access to settings that could be used as loopholes for compromising the security of an Android device MDM.  From the Optimal Biz management site, a mobile device administrator can apply Secure Shield to any settings he/she chooses.
●Popular MDM loopholes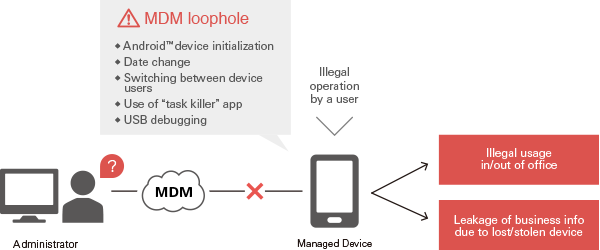 ■Examples of popular MDM loopholes (AndroidTM device initialization)
Without Secure Shield

With Secure Shield

●Secure Shield screen image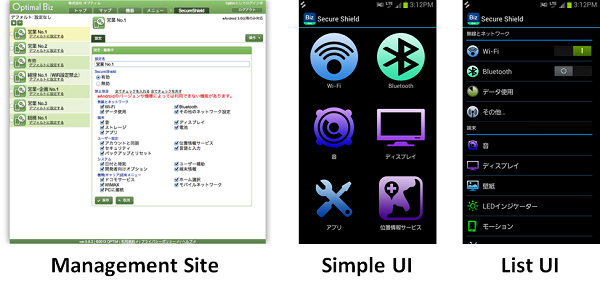 Secure Shield introduction:
https://www.optim.com/special/secureshield
■About OPTiM's Intellectual Property Strategy
OPTiM places a high priority on developing and enforcing its intellectual property strategy so that our customers can utilize our unique technologies safely and securely.  In addition to the Secure Shield patent, OPTiM has registered many other patents in several different countries, including Japan, the USA, China and Korea.  Moreover, OPTiM ranked ninth in Patent Result Co., Ltd.'s "Patent asset volume ranking, information and communication business"※3 for 2011 - 2012, and earned third place in Patent Result Co., Ltd.'s "Comprehensive patent rankings for electronic device management"※4, issued on October 22, 2014.
OPTiM will continue to actively promote its intellectual property strategy in order to develop safe and secure products and services, and provide homegrown technologies to customers worldwide.
※1
Source: "ITR Market View: Enterprise Mobile Management/Smart Application Development 2014," published in October 2014 by ITR Corporation.
※2
MDM stands for "Mobile Device Management," an enterprise solution that collectively manages all employee smart devices and offers security when a device is lost or stolen.  MDM provides features such as remote lock and prevention of malicious application launch
※3
Source: News release by Patent Result Co., Ltd. on October 9, 2012.  Results based on the total "Patent Score" for each enterprise for patents registered between April 1, 2011 and March 31, 2012.  "Patent Score" is an index that evaluates the attention level paid to a patent and traces a patent's qualification history after application.

"Ranking of Patent Asset Scale in the Information Communication Industry," 2011-2012:

http://www.patentresult.co.jp/news/2012/10/telecom.html

About "Patent Score":

http://www.patentresult.co.jp/about-patentscore.html
※4
Source: News release by Patent Result Co., Ltd. on October 22, 2014.  From "Comprehensive patent rankings for electronic device management"

"Comprehensive patent rankings for electronic device management":

http://www.patentresult.co.jp/news/2014/10/dm.html
About OPTiM
Based in Tokyo, Japan, OPTiM provides solutions that reduce its clients' support costs, with an overall focus on evolving online experiences to the point that the Internet becomes something you aren't even conscious of, like breathing.  OPTiM's solutions' suite includes setup, diagnostic and marketing tools for NGN and home networks, as well as mobile devices, routers, TVs, gaming platforms, multifunction peripherals, servers, printers and DVD recorders.
【Copyright / Trademark】
※The corporate names and product names mentioned above are registered trademarks or trademarks.
※The information presented in this press release is subject to change without notice.
For inquiries, please contact:
OPTiM Corporation Marketing/Promotion Team
TEL: 81-3-6435-8570 FAX: 81-3-6435-8560
E-Mail: press@optim.co.jp
Optimal Biz Page: https://www.optim.com/products/biz