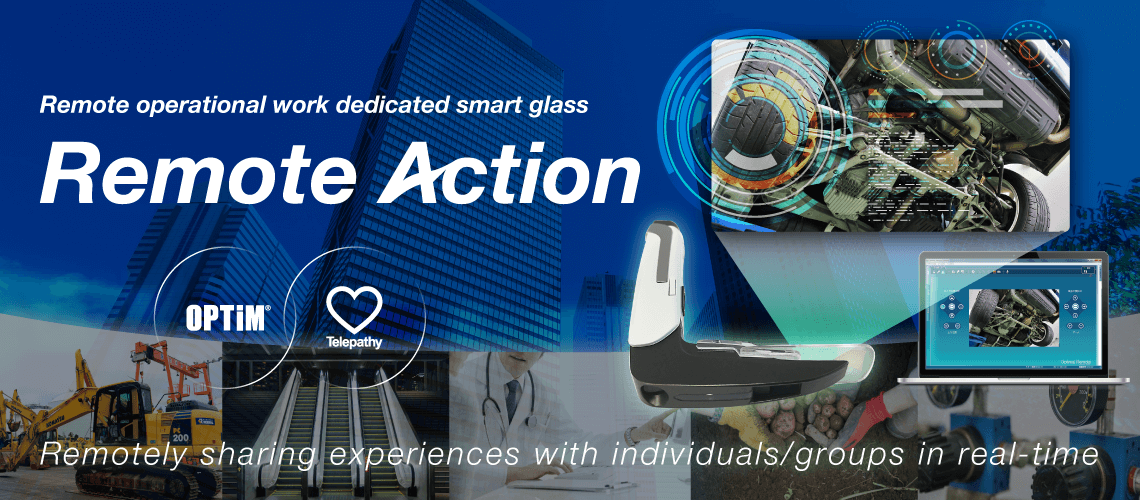 What is Remote Action?
Remote Action is a remote operational work dedicated smart glass to be equipped to an on-site worker that allows capturing the actual worksite condition and remotely receiving operation instructions and support. This packaged service is centered on OPTiM's remote support service for wearables, Optimal Second Sight, offered together with Telepathy's wearable device. With this combination of a wearable device and application services, greater work efficiency and accuracy can be realized. With this, a remote operator can review a site's status with real-time images and provide detailed support. Since the on-site worker wears the smart glass, they can use it hands-free, optimizing their work. This service is ideal for corporations that face specialized training for employees, labor shortages or support cost increases. Furthermore, with WDM (wearable device management) service provided by Optimal Biz, the top-selling MDM (mobile device management) service in the domestic market for the past 4 years, implementation, management and usage costs can be greatly reduced.
This service is the embodiment of "Remote Experience Sharing," OPTiM's ideal of users remotely sharing experience (knowledge, know-how, information) with individuals/groups in real time.
The Rise of Smart Glasses
These days, many enterprises are starting to embrace using wearables, and there are reports of increased work efficiency and accuracy. Additionally, smart glass work usage has certain expectations. The two points below show the advantages of smart glasses.
Sharing a Field of View
Smart glasses have a high-resolution camera on the front of the device, and the field of view captured by the camera can be shared remotely with an operator.
Differing from traditional smart devices and cameras, smart glasses allow for uninterrupted image sharing with an operator of the worker's point of view, enabling sharing of an environment with maximum accuracy.
By sharing the current location conditions with remote operators from the worker's point of view, the actual working conditions can be accurately shown.
Because the operator can confirm a work site's condition from the worker's point of view being shared, the operator can give operation instructions appropriate for the situation.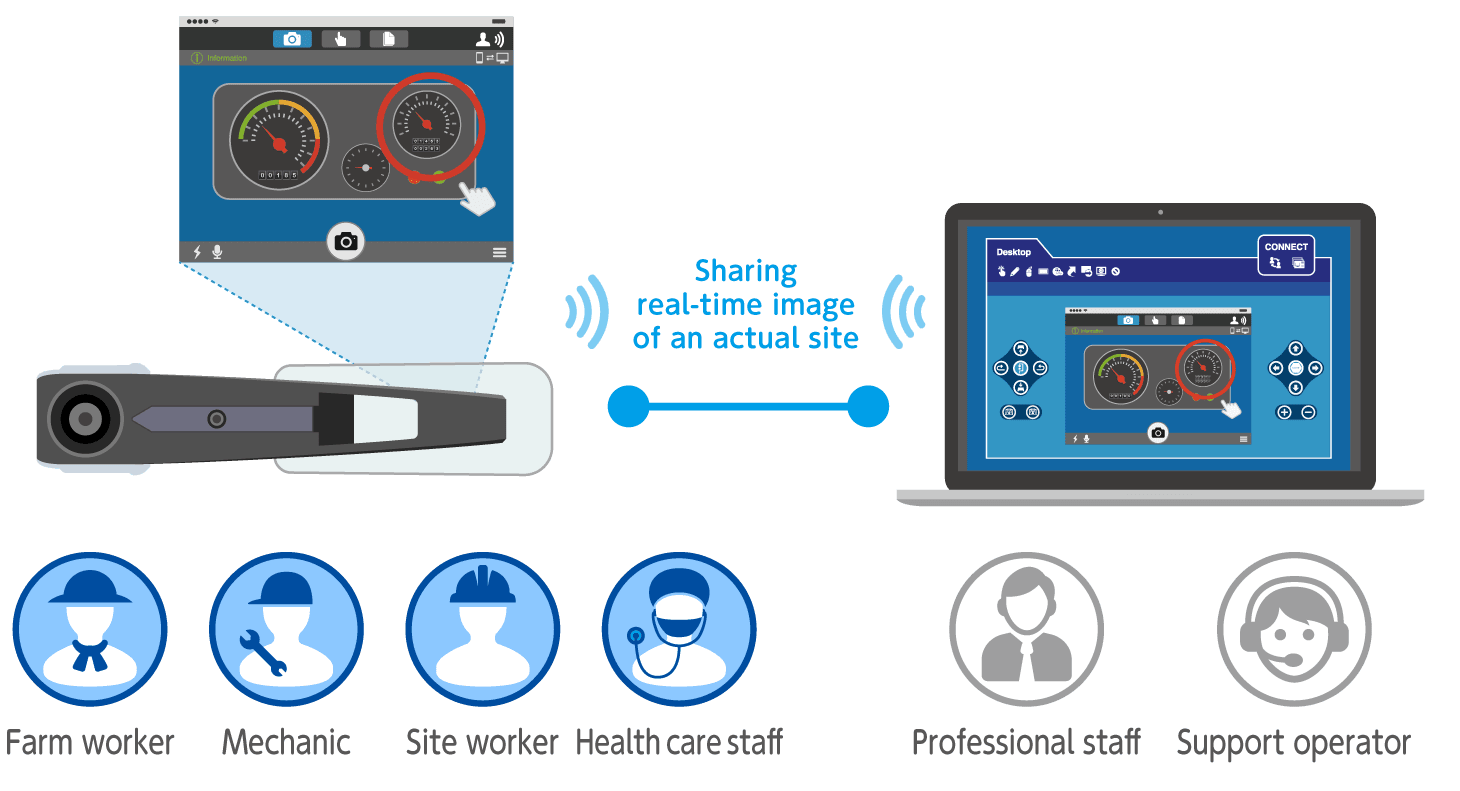 Hands-free
With smart glasses, the worker's view of the work site condition can be shared, and since the device is hands-free, this can be one without interrupting their work. Carrying a manual or job instructions to the work site is not needed, and as the operator can share information remotely, workers can do their job smoothly with the more relevant information. Furthermore, the smart devices that used to be necessary are no longer needed; with smart glasses, the worker doesn't have to take their eyes off of their task.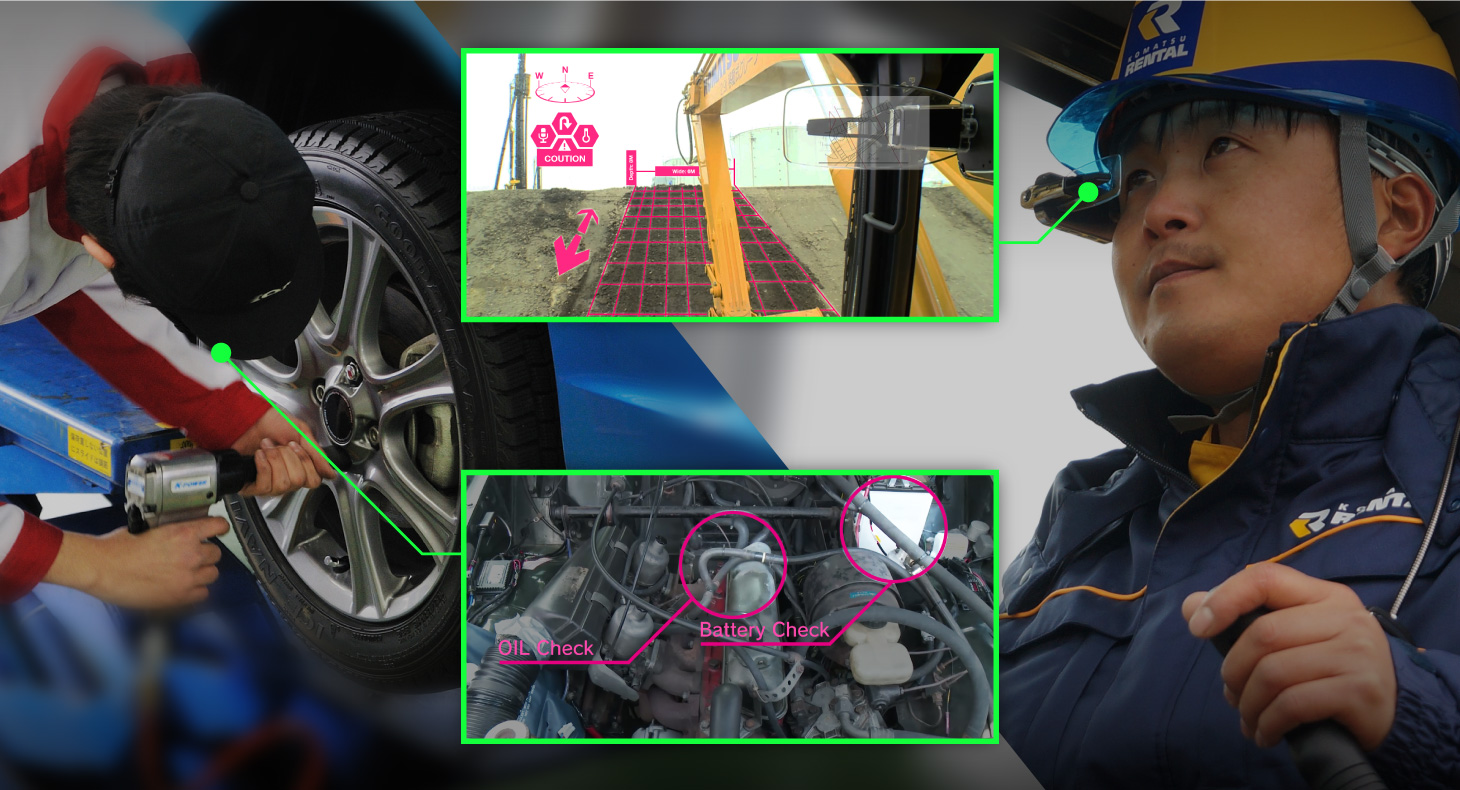 Remote Action Features
No complex integration; setting up remote work support can be done quickly
High-brightness display readily visible even outside
No need to calibrate the device; it can be initialized with Optimal Second Sight, optimized for wearables
Bulk installation, device management, operation, and asset management of multiple appliances are all possible from the cloud WDM service
Application bulk distribution
Possible to customize utilities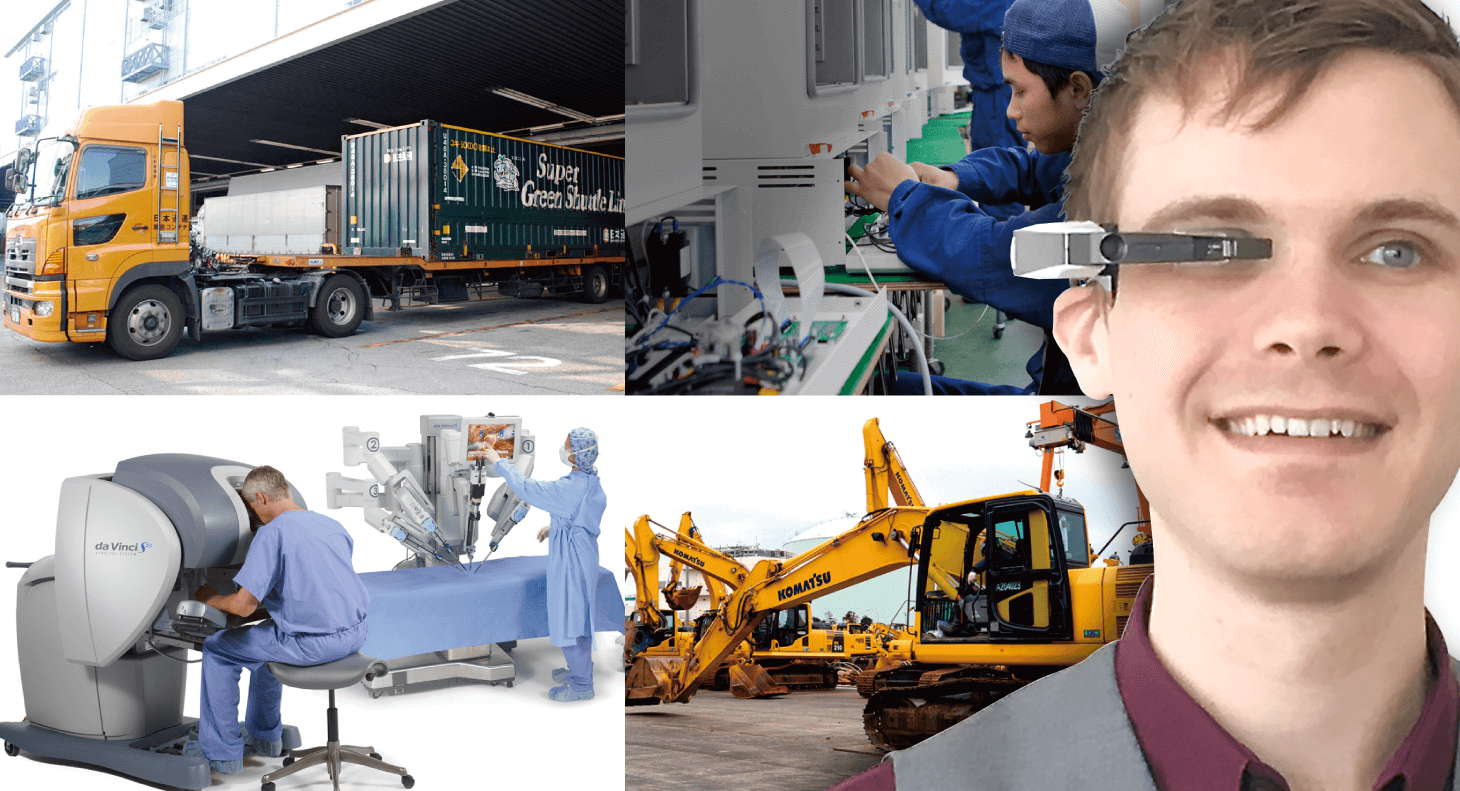 Remote Action Functions
Optimal Second Sight
Remote Action edition
Camera image sharing
By sharing camera images from a worker's Telepathy Jumper, remote support can be provided by a seasoned off-site operator.
Material/URL transmission
An operator can transmit files or URLs for explanation of shared materials being discussed with the on-site team.
Movement Instructions from the Operator
A remote operator can instruct a site worker where to position a certain piece of equipment/item.
Extra Support Functions
Useful user support features are provided, including Red pen drawing, Finger indicator and Voice calls (VoIP) available to assist support.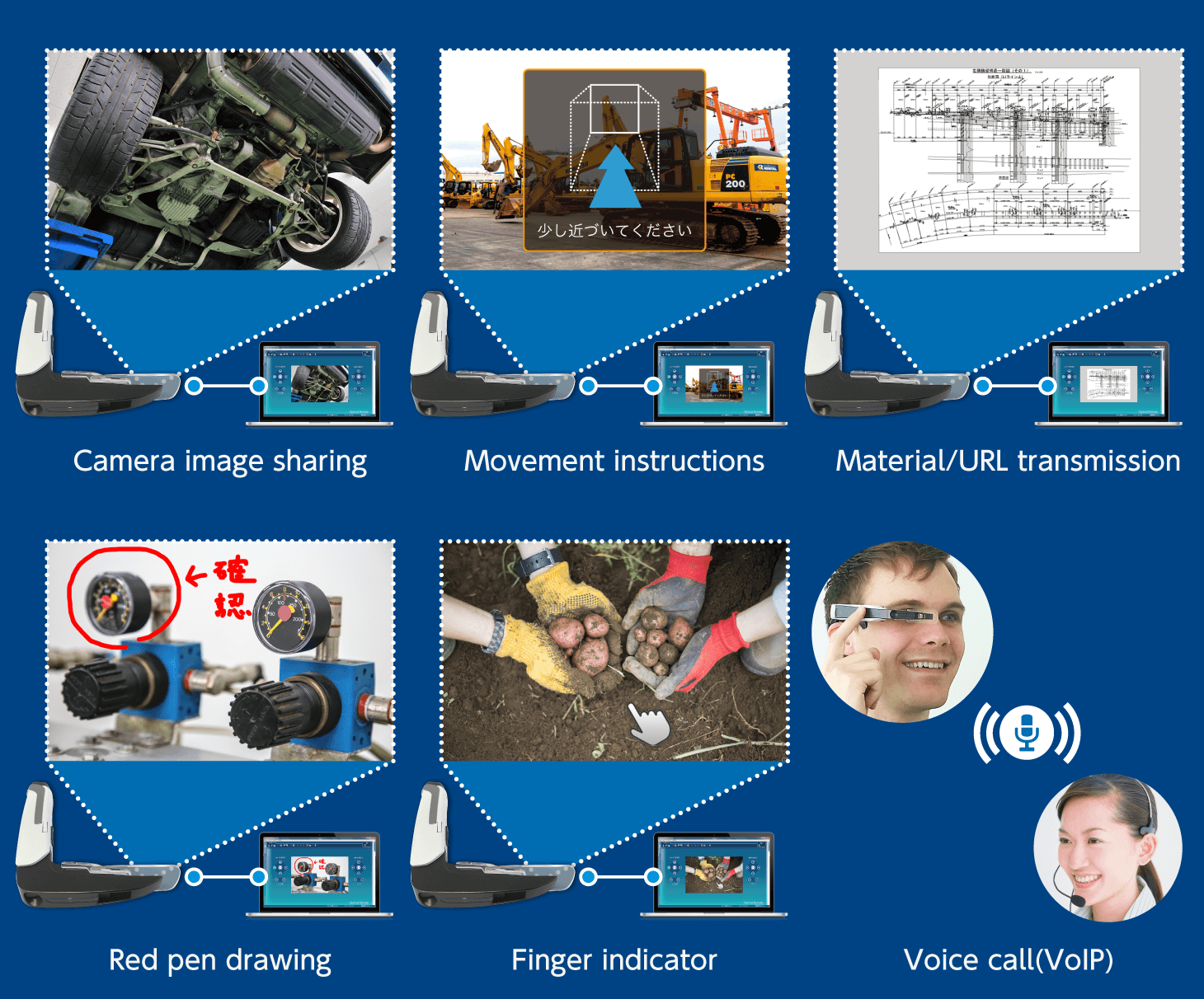 WDM
(wearable device management) Optimal Biz
Bulk installation for multiple devices
Bulk setup for multiple devices
Bulk application distribution for multiple devices
Message distribution for individual devices
Device asset management
Smart Glass Specification (Remote Action model W)
Dimensions (weight): W123xD73xH20 (56g)
Display unit: qHD (960×540) display
Camera: 5 million pixels; auto-focus
Sensors: acceleration, gyroscope, geomagnetism
Audio: microphone, speaker
Input/Output: micro USB, Extend Connector
Battery: 450mAh
Memory: 8GB
OS: Android 4.4
Network: Wireless LAN, BT4.0
Location Recognition: GPS, Skyhook